Sofia
Regular price
Sale price
€156,95
Unit price
per
Sale
Sold out
Size Chart
DETAILS:
Fuchsia is in and we are obsessed with this color! Sofia is the perfect wedding guest dress. Wear her to any event or party that you want to turn heads in. The tie detail can be worn different ways, knot her in front or get creative. (check out our Instagram for different ways to tie & style).
She's cute and she's ready to be shown off, girl!
Satin - 100% Polyester 
Dry Clean Only 
Imported

Knotted Front Halter Midi Dress with Asymmetric hem detail.



MODEL INFO:
Gia: Bust 47.5"/ Waist 39" / Hip 53" / Height 5'7 / Wearing a size 2 
Share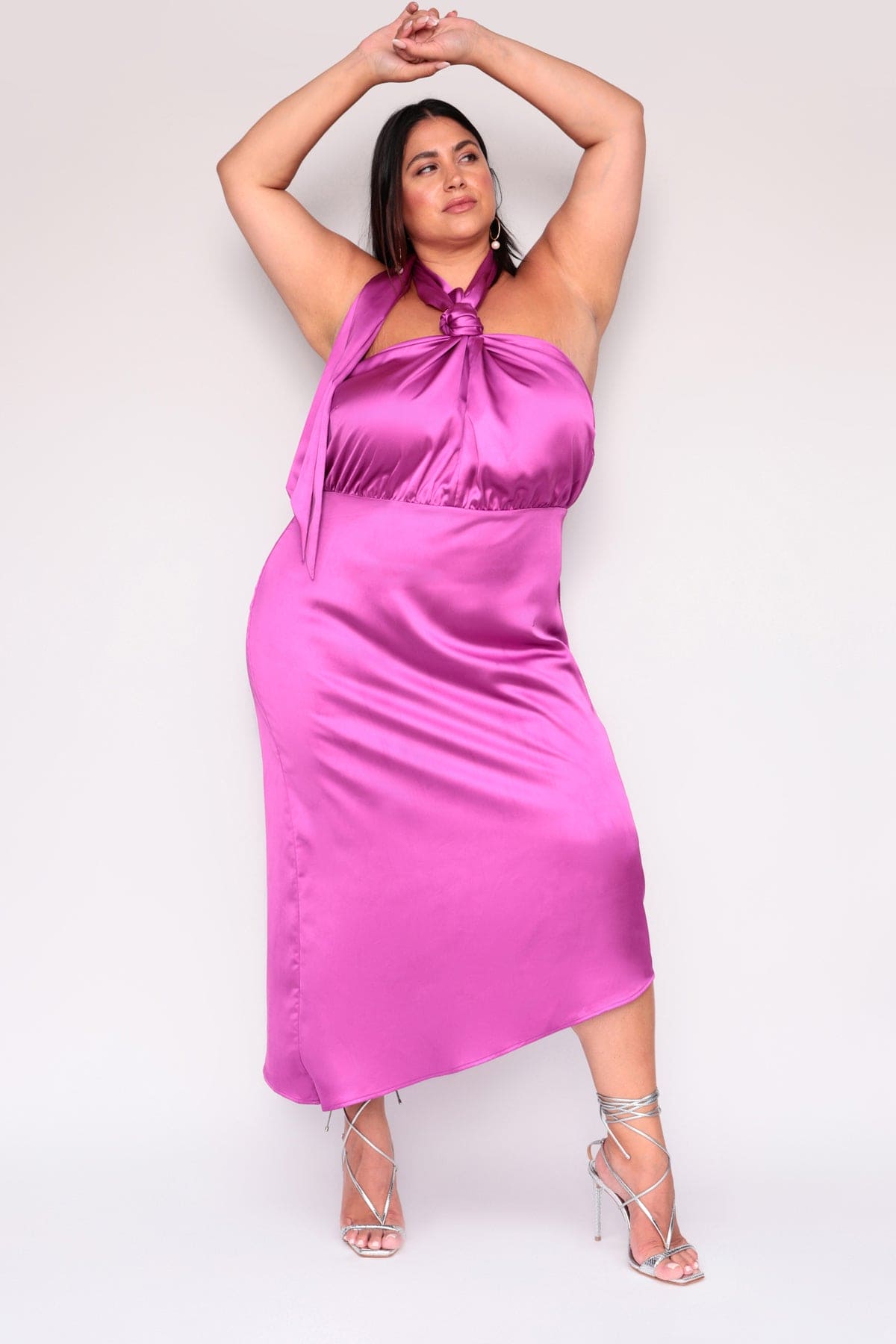 Size Chart
| | | | | | | |
| --- | --- | --- | --- | --- | --- | --- |
| GIA/irl | US | ALPHA | UK  | BUST  | WAIST  | LOW HIP |
| 00 | 10 | L | 12 | 38 - 41" | 30 - 33" | 43 - 45" |
| 0 | 12 | XL | 14 | 41 - 43"  | 33 - 35"  | 45 - 47"  |
| 1 | 14 | 1X | 16 | 43 - 45"  | 35 - 37"  | 47 - 49" |
| 1 | 16 | 1X | 18 | 45 - 47"  | 37 - 39"  | 49 - 51"  |
| 2 | 18 | 2X | 20 | 47 - 49" | 39 - 41" | 51 - 53" |
| 2 | 20 | 2X | 22 | 49 - 51"  | 41 - 43"  | 53 - 55"  |
| 3 | 22 | 3X | 24 | 51 - 53"  | 43 - 45"  | 55 - 57"  |
| 3 | 24 | 3X | 26 | 53 - 55"  | 45 - 47"  | 57 - 59"  |
| 4 | 26 | 4X | 28 | 55 - 57"  | 47 - 49"  | 59 - 61"  |
| 5 | 28 | 5X | 30 | 58 - 61.5" | 50 - 53.5" | 62 - 65.5" |
WHERE TO MEASURE
Bust- around apex
Waist- natural waist
Low Hip- at fullest point
ALAIA PANT 
| | | | | | | |
| --- | --- | --- | --- | --- | --- | --- |
| GIA/irl | US | UK |  ALPHA | WAIST | LOW HIP | LEG OPENING  |
| 00 | 10/12 | 12/14 | L | 32.5" | 47-49" | 27" |
| 0 | 12/14 | 14/16 | XL | 34.5" | 50-52" | 28" |
| 1 | 14/16 | 16/18 | 1X | 37.5" | 53-55" | 29.5" |
| 2 | 18/20 | 20/22 | 2X | 41.5" | 56-58" | 31.5" |
| 3 | 22/24 | 24/26 | 3X | 45.5" | 59-62" | 33.5" |
| 4 | 26/28 | 28/30 | 4X | 50.5 | 64-66" | 36" |